Get valuable information about who we are and how we love to help people get well.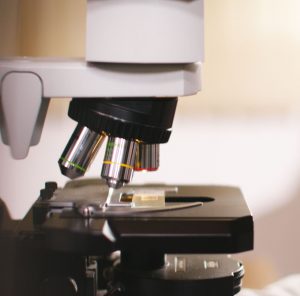 Our clinic specializes in a personalized approach to healing, that always originates with a simple blood test. Regardless of your pre-diagnosed condition, we will again, always have you take the blood test. It's the center-point of our entire process. 
It's an in-depth analysis of the current state of cells revealing the root cause sickness and disease. Through extreme microscope magnification (up to 65,000 x) we are able to view the overall state and condition of the patient's cells. This is what makes what we do unique and successful. We are able to individually get a deep-dive look at what is causing the issues.
This allows us to treat from the inside out, or as is commonly said about our process: "treating at the root of the issue."
After the blood test is analyzed, a custom protocol is designed to correct, heal, optimize good health and prevent illnesses. Through this test we can prove imbalances, deficiencies and abnormalities affecting each organ and system in the body. Cell examination can detect many imbalances and dietary insufficiencies before regular blood tests show any anomalies. 
This precise and thorough technique helps us understand the state of an individual's health and identify the root cause of your symptoms such as: food intolerances (different from a food allergy test), dietary insufficiencies, anemia, vitamin levels, toxicity, detection of congenital, degenerative and chronic illnesses, hormonal imbalances, bacterial overgrowths, parasitic and fungal infections, respiratory and circulatory issues, autoimmunity, oncological pathologies, psychiatric disturbances, pathological predispositions such as oxidation, metabolic imbalances, stress etc.
This entire process has been proven over decades of scientific study and medical treatment.

All of it is intended to do one thing: help the patient get well.
Can you help my condition?
It's very common for patients to come to us with a previous diagnosis (even multiple ones) or chronic issues that they haven't been able to find healing elsewhere. We commonly say "we don't treat disease, we treat people, according to what their cellular condition tells us through the blood test". We commonly treat life-threatening diseases and disorders (such as cancer), and have done so with an enormous amount of success.
So, we are always ready and willing to help. 
But it's absolutely vital for the patient to understand upfront: we will ask you to potentially change major portions of your lifestyle (nutrition, environment, daily patterns and more), and if you are not in a position where you can/would be willing to make major changes to your lifestyle, then our treatments and protocols will have a limited affect. Not because of the inefficiency of the protocols, but because there isn't a willingness to change and implement by the patient. It's that simple.
VIDEO: Welcome from Dr. Hilu
VIDEO: Find out how Dr. Hilu came to form his unique approach to helping others find healing.
Recognized as one of the leading cellular biologists in the world, Dr. Raymond Hilu holds degrees in medicine and surgery. Dr. Hilu and the Clinic are widely recognized for the unique ability to bring healing to complex disease and health issues.
By his patients, Dr. Hilu has been referred to as "Dr. Nousnours" (French for "Dr. Teddy Bear) because of his compassionate approach to helping and caring for the individual needs of the patient.
Beyond the decades of successfully treating over 200,000 patients, Dr. Hilu has extensive training with various health disciplines such as:
Clinical Nutrition in England
Embryo implants and stem cell surgery at the University of Viena (Austria)
Cellular microscopy at clinics in EEUU England and Holland
Podiatry (subspecialty in foot surgery) in Monterrey-Mexico.
Dr. Hilu is the only scientific collaborator trained by Dr. Johanna Budwig herself. Dr. Budwig was nominated seven times for a Nobel Prize for her work and contribution for research carried out on classifying fatty acids in olive oil and other foods. After Dr. Johanna Budwig passed away, Dr. Raymond Hilu became her only intellectual heir.  He then continued her work by developing and expanding the initial investigation with fatty acids turning it into the biggest worldwide reference. Besides obtaining various awards for his research, Dr. Hilu has instructed various doctors and scientists, all over the world, in the fatty acid protocol, the Mediterranean diet field and on clinical nutrition.
Fun fact: Dr. Hilu speaks 23 different languages fluently! 
Dr. Hilu collaborates with various laboratories throughout different countries where he continues developing work on his investigations in the fatty acid field as well as health and orthomolecular supplementation. Dr. Hilu has managed to create the most effective protocols used to treat Lyme disease (Borreliosis) and has performed clinical testing on treatments for Fibromyalgia, Multiple Sclerosis, Autism and Chronic Fatigue Syndrome.  Currently he is involved in a study that applies nanotechnology in degenerative diseases. Dr. Hilu is a member and researcher of:
The Bradford Research Institute

Member of the antiaging society in Switzerland

Member of the Spanish society of Medicine and Foot Surgery

Member of the Spanish association of Medical Professionals in Ozone therapies (AEPROMO)

Founding member of the International Cellular Medicine Society (ICMS) with its headquarters in the USA. 

Member of the International Lyme and Associated Diseases Society (ILADS)

Member of the International Cytobiological Therapy Institute located in Austria
He is the author of publications such as:
 "La Dieta Budwig revisada" (The revised Budwig Diet)

 "Par Biomagnético: hongos, virus, bacterias y parásitos" (Biomagnetic Pair Therapy: fungi, viruses, bacteria and parasites).

He developed techniques and work methodologies, such as:

The Hilu ® Method for Stem Cell Surgery

The Hilu ® Method for Cellular Medicine

The Hilu ® Method for Bio Surgery amongst others
Dr. Hilu has innovated several compositions and formulas that are distributed in labs worldwide, with the Coenzyme Q11 ® as his latest contribution to date. Apart from training and teaching many physicians throughout the world, he has taught anatomy and physiology for 6 years. He has received awards from the Mexican Academy of Medicine (Sodi Pallarés award) and the Club de Medios in Madrid (Media and Communications Club). He has also been invited to speak at prestigious international congresses.
Below are some of our key team members involved in ongoing patient care.​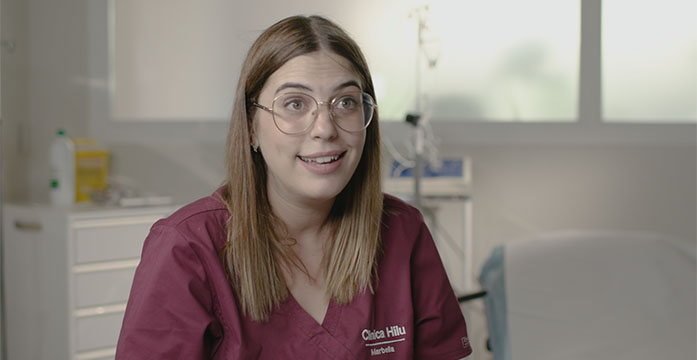 Cristina got her degree in Nursing from the University of Cordoba. She overseas the daily operations of the clinic and staff.
FUN FACT: She loves her pets, her plants and any type of food that she doesn't have to cook.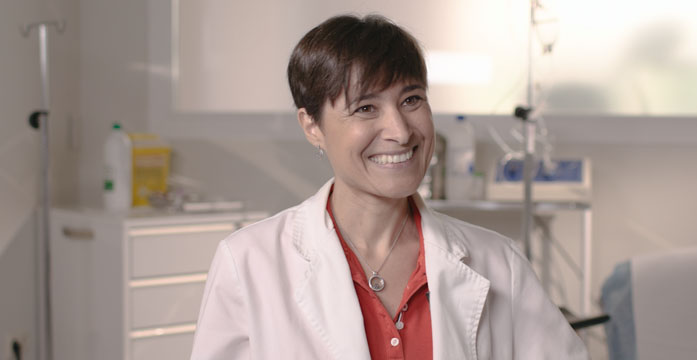 Doctor Sandra got her degree from the University of Malaga and is directly involved with patient care.
FUN FACT: She loves Star Wars and enjoys her free time cooking healthy recipes for her two young beautiful girls.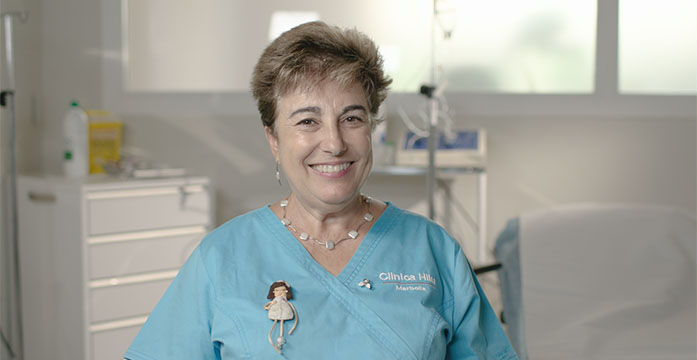 Carmen got her nursing degree from the University of Madrid, and is directly involved in patient care.
FUN FACT: She enjoys the warm sun, books, her job, and her two incredible children.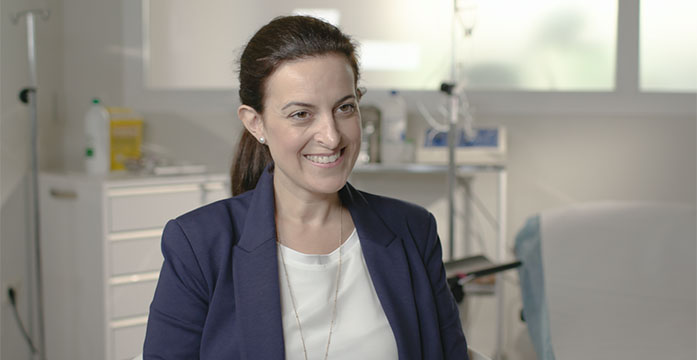 Veronica has been in the medical services industry for over 15 years, and handles patient correspondence and administration.
FUN FACT: She is passionate about animals, the enviroment and good food. She spends her free time with her family.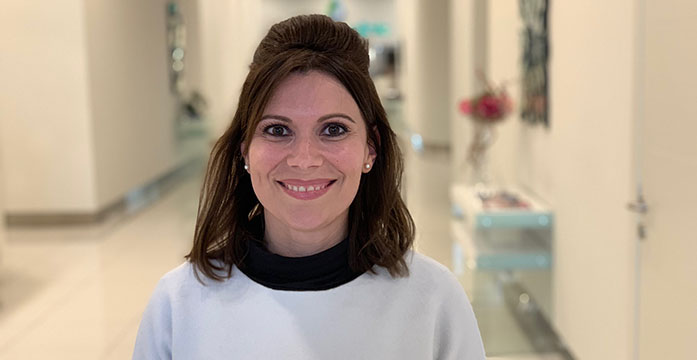 Anca has an extended business background and handles patient correspondence and hospitality.
FUN FACT: She loves the beach and spending time with family and friends.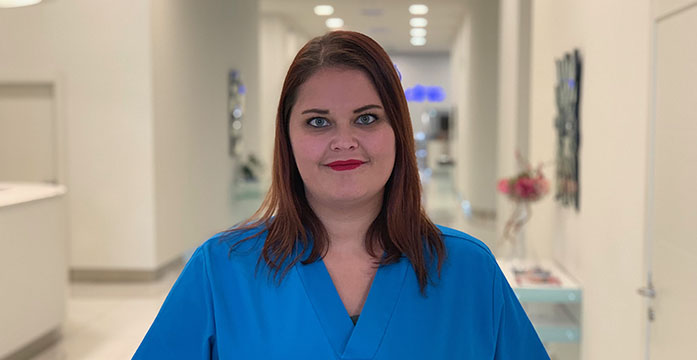 Kim got her nursing degree from the University of Malaga, and is directly involved in patient care.
FUN FACT: She loves traveling and is crazy about cats.

Clinic Location: Marbella, Spain​
The majority of people who seek our help don't require a physical trip to our clinic, as we are able to provide protocols they can implement on their own after receiving their test results back from us.
There are times however, where the severity of the condition will require the patient to come onsite to our clinic in Marbella, Spain.
With that in mind, here are general insights to aid in arranging travel and accommodations to come to the clinic.
The clinic is located in the southeastern portion of Spain, in the beautiful costal city of Marbella.

While the clinic is physically located in Marbella, the nearest airport is actually in Marbella's sister city, a larger town called Malaga that is approximately 45-60 minutes away from Marbella by car.  Patients who fly into Malaga from the United States or Canada, typically fly first into a city like Madrid or Barcelona, and then access a connecting flight into Malaga (airport code AGP). In addition to the airport, within Malaga there are also train stations that are accessible from nearly every major city within Europe.
The vast majority of our patients who come to the clinic from outside the immediate area, do so by arriving in Malaga, and then taking some type of ground transportation to Marbella, whether by taxi (45-60 minute ride) or by renting an automobile. Please note: there is no train or subway/metro access into Marbella. Patients will need to come directly to Marbella from Malaga (or other cities) via automobile.
Accommodations While In Marbella
There are numerous hotels within Marbella, that are within a short driving distance (10 minutes or less) of the clinic. Further, the Marbella area has an abundance of rental properties (AirBNB, VRBO, etc) that are available for overall reasonable pricing. Many of our patients chose the rental property option, as it allows a more comfortable "home" setting while receiving treatment at the clinic. 
The clinic is actually located within a beautiful combination office/hi-rise condo facility that is gated with private security staff. Many times throughout the year, patients are able to rent condos within the facility, which allows a brief 2-4 minute walk from the condo, to the front door of the clinic. For more specific information about lodging within the facility, please contact us at: [email protected]
General Information About Marbella
The city of Marbella is absolutely stunning, and serves year-round as a vacation/holiday destination for people from around the world. The mediterranean beaches and beautiful mountains in Marbella provide for a gorgeous backdrop, regardless of the time of day. The local cuisine has something for everyone: Seafood, Italian, Asian, India and even classic American bar and grills to name a few. In addition, Marbella has multiple championship golf courses, that many of our patients and their families access while receiving treatment at the clinic.
VIDEO: What to expect when seeking help and treatment
Fill out the form and our team will contact you promptly. Normally within one business day.
Avenida Calderon de la Barca s/n,
Urb.Magna Marbella, Edif Romero de Torres
1ª planta, 29660, Marbella
Tel:(+34) 952.90.77.77
Mov: (+34)665.644.304
Fax: 952.90.64.56
[email protected]